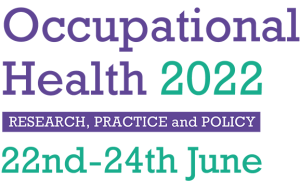 OH 2022: CALL FOR ABSTRACTS
Don't miss this opportunity to present your work to national and international colleagues. Accepted abstracts will be published in Occupational Medicine – the official journal of SOM
The Society and Faculty of Occupational Medicine invite the submission of abstracts for either oral, oral poster or standard poster presentation.
We are keen to receive abstracts relating to any aspect of Occupational Health, from both academic and practitioner delegates.  The theme of Occupational Health 2022 is "The New World of Work" and abstracts relevant to this topic are especially welcome, as are submissions from overseas, trainees and medical students.  Prizes will be awarded for the best presentations at the Conference.
Case reports will be considered also.
Time has been specifically allocated within the programme for oral presentations and oral posters.  Standard posters will be located in an easily-accessible area for viewing during all break times.
All delegates are encouraged to present material that will stimulate debate, raise issues of concern or highlight quality work being carried out by teams or individuals.  This is an excellent opportunity to present to an audience from UK and abroad.
For 2022, we are moving to an online submission platform, so please take time to read these new Instructions for Submission:
Terms and Conditions of Submission:
Please note: ALL Presenting Authors must register to attend the Occupational Health 2022 Conference, which is planned as an in-person event.
Instructions for Registration will be included in the result correspondence.
How to submit:
1. Follow this link: Online Submission System
The minimum browser settings for this system are: Chrome version 22.x or higher, Firefox version 16.x or higher, Internet Explorer version 9.x or higher
2. All submissions must be received by 9am on 1st March 2022. Late submissions will not be accepted.
3. In order to submit (any number of submissions) you will need to set yourself up as a New User and provide your contact information.
4. Select "Submissions" to add your submission(s) to the system. The system will prompt you for the required information.
5. Your abstract must be submitted in English.
6. You will be asked for your preference of presentation format.
7. You will be asked about any disclosures and whether or not Ethical Approval was sought.
8. You will be asked for the title, authors and designations before the text of your abstract.
9. Your abstract itself must not exceed 250 words (this excludes the title, authors, designations and references).
10. Your abstract must be structured into Background, Aims, Methods, Results and Conclusions.
11. If you wish to include tables, these must form part of what you insert into the "Abstract Text" box and these will count within your 250 word limit. Tables MUST NOT be scanned into the abstract, but typed in using Word. Note: When an abstract is accepted, only the text will be published.
12. References can be given, up to a maximum of 5 and these will NOT form part of the 250 word count.
13. In addition to your abstract, please provide a statement as follows:
What is already known about this subject? In a maximum of three bullet point sentences (no more than 50 words each), please summarise the state of knowledge on this topic before your study was initiated and say why this study needed to be done.
What does this study add? In a maximum of three bullet point sentences (no more than 50 words each), provide a succinct answer to the questions "What do we now know as a result of this study that we did not know before?" and "What key message do you want to share with readers?"
What impact may this have on practice or policy? In a maximum of three bullet point sentences (no more than 50 words each) please provide a brief statement on the possible impact this may have on day to day occupational medicine practice and/or policy.
    After Submission
a) The on-line system will enable you to add multiple submissions to your profile.
b) All submissions will be acknowledged by automated E-Mail. If you have not had a confirmation of receipt within 3 working days of your submission, please contact the Conference Secretariat via ohabstracts@indexcommunications.com
c) The Abstract Review Panel will review all abstracts and their decision on the acceptability of the abstract and format of the presentation will be final. No correspondence on their decision may be initiated by the author(s). While preferences for oral or poster presentations will be considered, the Reviewers may offer the alternative format.
d) Instructions on the duration of oral presentations, oral posters and the format and size of posters, will be given in the result correspondence which is planned for issue in early April 2022.
e) If an abstract cannot be presented at the Conference, the Secretariat must be notified in writing ahead of the Conference to save gaps in the programme and unnecessary costs.
Please contact our Conference Secretariat team if you have any queries at all regarding abstract submission: T: + 44 (0) 1794 511332; E: ohabstracts@indexcommunications.com