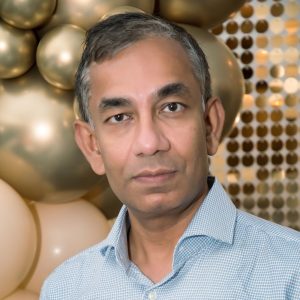 Kamal Mahawar is a Consultant General/ Bariatric Surgeon, lead for Upper GI Surgery and corporate lead for invasive procedures safety at South Tyneside and Sunderland NHS Foundation Trust. He is also a Visiting Professor at the University of Sunderland.
He has over 200 peer-reviewed publications and has an H index of 37. He is the Co-Editor of "Journal of Bariatric Surgery" and an Associate Editor of "Obesity Surgery" and "Annals of Royal College of Surgeons England". He is on the editorial board of SOARD and other journals. The journal "Obesity Surgery" published his biography in 2018.
He is the founder and Chief Coordinator of the global society for Upper GI Surgery - The Upper Gastrointestinal Surgical Society (TUGSS). He is a member of the council of the Association of Surgeons of Great Britain and Ireland (ASGBI) and is its Associate Director for conferences. He sits on the Council of the British Obesity and Metabolic Surgery Society (BOMSS) and chairs the National Bariatric Surgery Registry (NBSR) Committee. He is the Northern England representative on the council of the British Benign Upper Gastrointestinal Surgical Society.
He also serves on the Research Committee of the ASGBI and the scientific committee of the International Federation for the Surgery of Obesity and Metabolic Disorders (IFSO). His first book "The Ethical Doctor" was published by Harper Collins in 2016. His second book "Fight with Fat" was published in 2018 by "Fingerprint" publishers. Both received wide coverage and good reviews in popular media.